Dear Parents/Guardians
Greetings or Nhurra barndi!
We welcome your involvement with Waggrakine Primary School. At Waggrakine parents and staff work together to guide and support students through their primary years of education, aiming to make this a safe and enjoyable time for your child.
"We would like to respectfully acknowledge the Yamatji Peoples who are the Traditional Owners and First People of the land on which we stand. The Nhanhagardi, Wilunyu, Naaguja. I would like to pay my respect to the Elders past, present and future for they hold the memories, the traditions, the culture and hopes of the Yamatji Peoples."
During my time at Waggrakine we have seen the school grow and evolve. With ten years of increased growth, the school has gone from 330 students to 500. At Waggrakine we are striving towards a vision of 21st century learning. We aim to create a learning environment where your child is able to learn to be collaborative, creative, a problem solver, a critical thinker, sharing, caring and respectful of themselves and others.
We value the school as an inclusive school, accepting all families from within our catchment. We aim to tailor learning to meet the cultural, linguistic or other diversities.
We invite you to be involved in the school and encourage you to maintain regular communication with your child's classroom teacher. Seesaw is our whole school platform for regular and effective communication. Our staff have the interest of your child at heart at all times and our decisions and actions are made with that interest uppermost in our minds. The partnership between home and school is pivotal to your child's success at school.
We look forward to working together with the community to provide a fun, engaging, safe and challenging learning experience for your children.
Kind regards
Ms Lis Turner – Principal
B Arts, Diploma Design, B Education, Grad Dip Applied Linguistics, Masters of Early Childhood
2011 WA Primary Principal of the Year
2012 Finalist Australian Principal of the Year
2012 Australian Council of Education Leaders, Fellow
2012 Churchill Fellow
2017 Harvard University Fellowship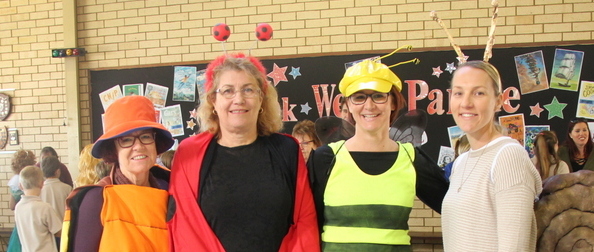 Meet some of our Admin Team
Lis Turner, Diane Suckling, Zoei Nixon and Mandi Ostaszewskyj in the spirit of Book Week. Mrs Nixon is on a secondment to another position outside Waggrakine.
The Leadership Team
Principal
Melanie Sutherland
Deputy Principals
Paul Bonavia
Lisa Barns
Bradley Reynolds
Mandi Ostaszewskyj
Manager Corporate Services
Carol-Anne White
Support Staff
School Officers
Marina Fowler
Michelle Tazewell
Ashlee Corbett
Library
Kylie Pears
School Technical Officer
Jen Ford
Aboriginal and Islander Education Officers
Janita Bellotti
Gloria McCallum
Jenny Hoare
Gabriella Bellottie
Chantelle Rosenthal
SAER Team
Lauren Read – Autism Specialist Teacher
Shannan Robinson – Learning Support Coordinator
Kym Coulthard – Lead Special Needs Education Assistant
Vanessa Gould – SNEA in the Lorax room
Fiona Hopkins – SNEA in the Discrete Trial Training Program
Theresa Voigt – EA in the Waggrakine early Intervention Program (WEIP)