2019 sees new uniforms 
During 2018 the school Board, P&C, staff and students worked together to design new uniforms and we are very happy with the new uniforms. Old uniforms are welcome to be transitioned over 2019 and 2020. The faction t-shirts remain the same. 
In 2021 the uniform shop is being taken over by Total Uniforms, this will allow greater parent access to uniforms with the shop open 6 days a week.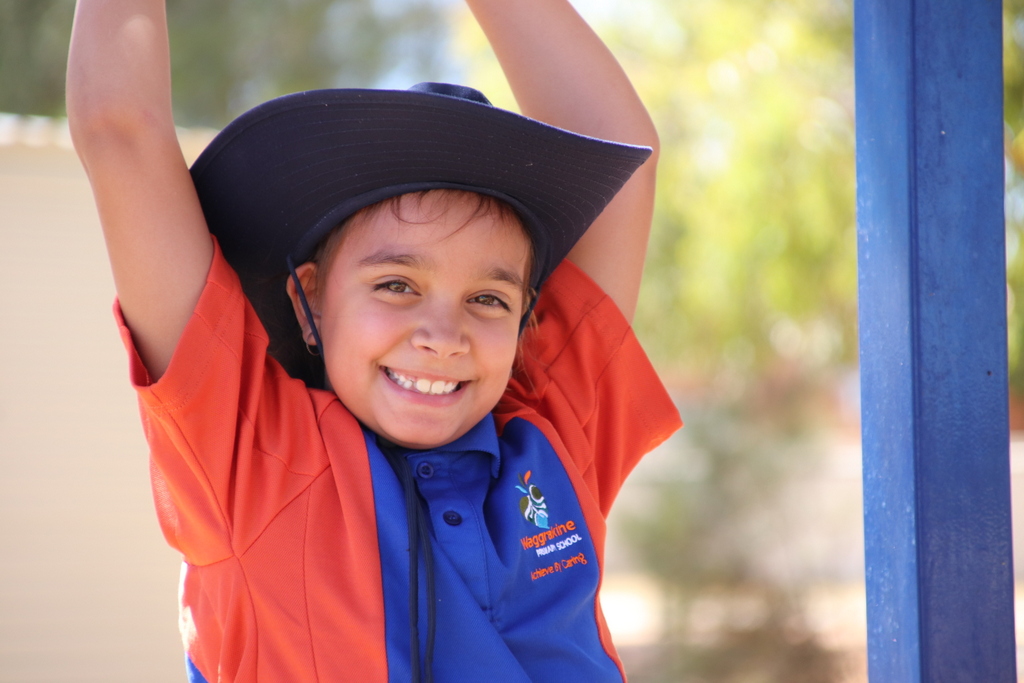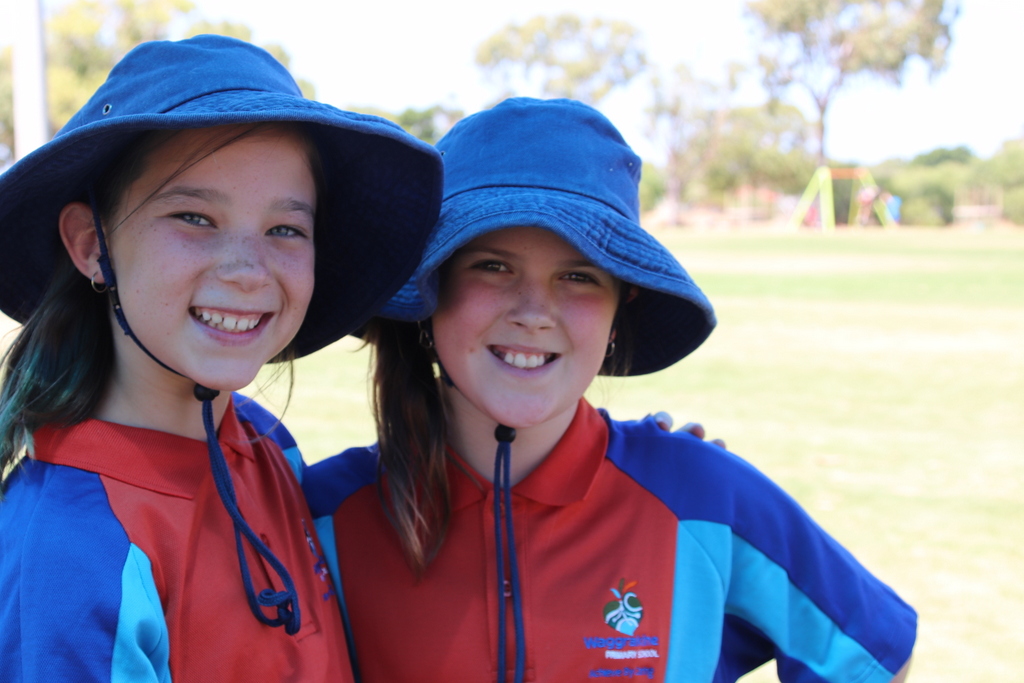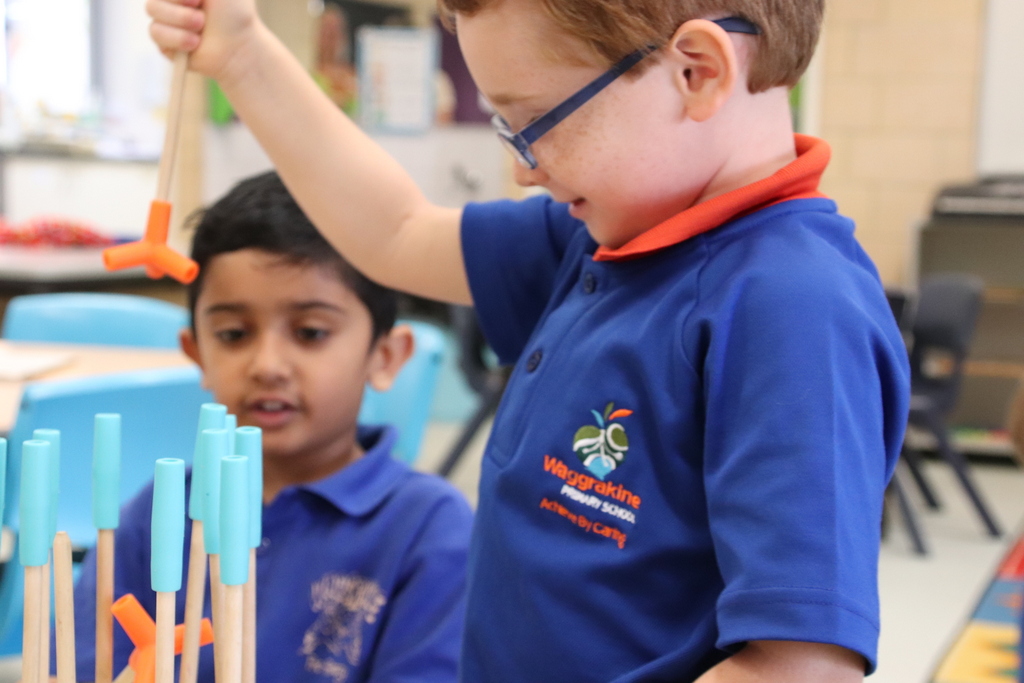 Uniform variations
Our Year 6 leaders have the uniform with the paler blue stripe and blue sleeves. The Year 1-5 students have the blue centre and orange sleeves. Kindergarten and Pre Primary students uniform is the orange collar and blue shirt.  
The School Board Endorses a School Dress Code
Fosters and enhances the public image of the school
Assists in building school pride and team spirit
Ensures students are safely dressed for specific school activities
Encourages equity among students
As a part of the enrolment procedures at Waggrakine Primary School the parent/guardian signs the 'Dress Code for Students Policy Agreement' sheet agreeing that they will support the Dress Code for Students Policy. The parent/guardian may wish to modify the school dress code for religious or health reasons and is asked to discuss any needs with the Principal.
Availability
School uniforms (other than track suit pants) may be purchased from the school canteen. Plain, royal blue items may be purchased from other sources.
Students whose families may experience difficulties regarding the uniform requirements are asked to discuss the situation with the principal or deputy principals
If a Student Does Not Wear the Uniform
The teacher queries the student regarding their uniform and sends home a reminder note with the student.
If the student still fails to wear the uniform the teacher will inform the Principal or Deputy who will discuss concerns with the family and seek to support them in enabling uniforms for the student.
Students not following the dress code may be denied the opportunity to represent their school at official school activities, which include choir, school excursions, sporting and social events.
Dress Code
| | |
| --- | --- |
| | |
| K –PP Royal blue with burnt orange collar  | Royal blue shorts, skort, or skirt |
| Yr 1-5 Royal blue with burnt orange side panels  | |
| Yr 6 Burnt orange with royal and aqua blue side panels  | Royal blue tracksuit or jazz pants |
| K – Yr 6 Faction colour shirt | Royal blue broad brimmed hat – can be reversible or legionnaire style |
| | Joggers, shoes or sandals |
During winter, plain royal blue or other plain neutral colour leggings, tights, skivvies or long sleeved T-shirt may be worn under uniform for warmth.
Excluded from the Dress Code
Jeans, board shorts
Singlets, tank tops, sleeveless T-Shirts
Clothing outside school colours
Hats other than wide brim or legionnaires style
Graffiti on uniforms/hats
Other footwear
Jewellery, Hair and Makeup
Jewellery is discouraged. The school accepts no responsibility for loss or damage to jewellery.
Jewellery should be unobtrusive and not represent a health or safety hazard. Facial piercing is discouraged. Jewellery should be restricted to watches, plain rings, sleepers, studs, short simple necklaces and bracelets.
To minimise health and safety hazards long hair should be tied back
Make up is not to be worn at school.
Uniform Sales
Please note the canteen is open from 08:30 — 08:50 each morning for students to order lunches and this is the priority at this time. Please be patient and the staff will help you when they can. In addition to providing nutritious food at affordable prices, we stock school uniforms which are available all year round. Uniforms can be purchased through our online store and picked up the next day.                                                                                             www.quickcliq.com.au 
The Uniform Shop is situated in the Hall and is open:
Tuesdays               08:30 – 09:30
Wednesdays         14:30  – 15:10
Fridays                  14:30  – 15:10
Uniforms can no longer be purchased at any other time. Payment can be made with cash or by bank transfer to 
Account Name:   Waggrakine Primary School P and C Uniforms
BSB No:     633 000
Acc No:     157 159 054    
Bendigo Bank
NO EFTPOS is available.
Alternatively, uniforms can be ordered online via Quickcliq.com.au and collected as per Uniform Shop hours listed above. This will cease in 2021 when the uniforms move across to Total Uniforms. 
If you have any Uniform Queries, please contact Paula Steenson on 0409 076 476.