Intervention Program
Waggrakine Early Intervention Program (WEIP) is a Speech and Occupational Therapy program developed in consultation with Speech and Occupational Therapists from Child Development Services. Our program is delivered at school to identified students in Pre Primary 3 times a week by a trained Education Assistant and reviewed regularly by therapists. This program runs over a school term and may be extended if further development is required.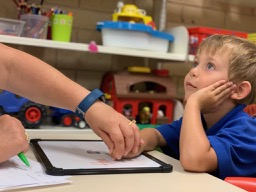 Child Development Service 
Child Development Service is delivered by the WA Country Health Service based at Geraldton Regional Hospital. This is a free service, their main focus is on early intervention through assessments and treatments for families of children from birth to 7 years old.
The Child Development Service team includes Speech Pathologists, Occupational Therapists, Physiotherapists, Social Workers, Clinical Psychologists, Pediatricians, Therapy Assistants, Audiologists and Nurses.
Click here for more information about CDS 
Speech Pathologist
A Speech Pathologist supports people who have difficulties with expressive and receptive communication, and swallowing food or drink. Receptive language is the ability to understand language and expressive language is the use of words, sentences, gestures and writing to communicate to others.     
Occupational Therapy
Occupational Therapy is designed to help children acquire the skills needed to perform the activities of daily life. These skills include fine motor (handwriting, cutting, buttoning, etc) and gross motor (climbing, running and jumping) skills, sensory and processing skills, and self help skills (brushing teeth, getting dressed, toilet training).
If you are concerned about your child's speech, motor skills or sensory needs, speak to your child's teacher or call Child Development Services 9956 2204.